warthoginrome
writes:
I don't know if you had the chance to run into this news, so I wanted to point it out, because the topic is common to the entire asian pop scene.

The story is about Minami Minegishi (20 y.o.), member of the japanese group AKB48. A tabloid published some photographs of her leaving the apartment of her boyfriend, Alan Shirahama (19 y.o.), member of the boy band Generations.

As you may guess, Minami is bound to a "contract" which prohibits any kind of relationships. After the bomb exploded, she decided (spontaneously?) to cut her hair and record a public apology. In the video she apologizes to colleagues, family, and fans, reproaching herself for having been "thoughtless and immature," and specifying that "I don't believe just doing this means I can be forgiven for what I did, but the first thing I thought was that I don't want to quit AKB48." In the meantime, the agency demoted her from the "senior" to the "trainee" rank, for "for causing a nuisance to the fans."

I don't really know why, but as soon as I saw the video, the T-ARA controversy came to my mind, because I find it hard to tolerate the unlimited power of the so called netizens (better, customers). This is really too much. I know that, after all, Minami is more fortunate than many boys and girls of her age living in much tougher conditions around the globe, but I feel bad for her anyway.
Checking this out myself, I see that American news outlets have
been all over this story
, reporting that the incident has provoked pushback and even outrage in Japan, people calling the treatment of Minami unfair and saying it amounts to bullying (many people assuming she had little choice in the matter of close-cropping her hair).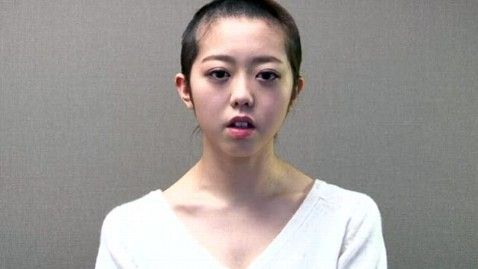 Some American (I assume) commentators at The Young Turks
provided their own perspective
, and my crap detector says that they didn't actually research the culture, that they're making guesses as to the attitudes behind the no-dating rule. ("You're no good unless you're virginal, you're no good unless you're pure, you're no good unless I actually have a shot at sleeping with you sometime in the future.") But then, I haven't researched it either. And just because they're guessing doesn't mean they're wrong.
Minami's in a better position than T-ara was as far as garnering sympathy, since the Netizens who were bullying T-ara were portraying T-ara as bullies themselves, which meant that attempts to defend T-ara (and to understand and accept T-ara and their overmatched CEO as humans who get to screw up) could be cast as attempts to defend bullying. On the other hand, T-ara are full-scale stars with a fanbase that's not going to completely abandon them, whereas Minegishi is one replaceable member of a vast enterprise. On the third hand, I know little more than zilch about J-pop and Japan and AKB48, and I don't assume Japan is Korea, and I don't assume there's a homogenous thing called "Japanese attitudes" and "Korean attitudes" anyway, any more than there's a homogenous thing called "American attitudes": there are always arrays of behavior and ongoing tensions and arguments over gender and sex issues (there wouldn't have been an injunction against adultery in Moses' day if people weren't committing adultery (as well as worshiping false gods and failing to honor mommy and daddy)).
Readers who understand K-pop and J-pop more than I do should comment. In the
T-ara affair
, fans and Netizens didn't hold just one view, and I think in general agencies and performers are far too timid in giving way to what they imagine are fan desires. (Not that all agencies impose such restrictions in the first place.) But also, performers like HyunA, for instance, are able to get
energy
from the limits that some fans and censors try to impose on them, since part of HyunA'a act is to cross the border into what she's supposedly not allowed to do. I wouldn't imagine it would ruin her image or devastate her fanbase if she were found to have spent the night with a guy. But I don't know. I assume (though I've not researched this) that Brown Eyed Girls are
expected
to have affairs and dates etc., and are even willing to stoke the rumors that they're sleeping with each other. And one of the Wonder Girls just got married.
By the way, I didn't attend much to
G-Dragon's marijuana scandal
in 2011, but my impression at the time was that it wasn't that big a deal, nor was it that potentially damaging (his hair follicles tested weakly positive for marijuana, and he explained this away by saying that he imagined it happened 'cause of a time he'd gotten massively drunk and someone offered him a cigarette, which he assumed was tobacco, and he felt he'd have been rude to refuse; this doesn't seem like the most convincing or contrite explanation). If you're going to be a bad boy, you gotta do something bad every now and then.
Something I'm curious about is whether, in Korea and Japan, rock and hip-hop stars (as opposed to pop stars) are expected to hew to limits in the same fashion. By "hew to limits" I don't mean "are subject to the same behavioral injunctions," since I assume they're not (I assume they are allowed to date and that rock and hip-hop guys are
supposed
to seem sexually active), but rather the idea that you don't want to offend or challenge your fans or appear genuinely arrogant rather than grateful to them for your success. I'd think, in contrast, that you'd lose cred if you seemed
too
compliant, too full of gratitude. But that's me looking at things from my perspective, here in America.
One thing about Netizen behavior: although it may not be absolutely pure self-expression — you have to have Internet access, you have to have time (both of which require money), and anyway the messages that have money backing them up become the ones sloshing around the culture and are therefore more likely to be the ones that spontaneously come out of people's mouths, even poor people's — it still, as expression goes, is more bottom-up than most. And though minority opinions can be drowned out, they can't simply be shut up. Anyway, I recently read
this excerpt
from Tom Slee's
No One Makes You Shop At Wal-Mart
, which is on a different subject — how free consumer choice can sometimes have results that no one wants. I don't make a direct connection in my mind between his thesis, on the one hand, and, on the other, the combination of paparazzi and fan selfishness that afflicts Minami. But when something seems
not
to be working, it's good to think why, and what could be done. Can a mass of people teach themselves how to think, how to plan? Is there a structure that could help us think and plan better?
At a minimum, what if some record company or agency announced that it would never make disciplinary decisions for any reason without first waiting two weeks?